3:e Våningen – an artist-run Dance Venue, Studio and Art Space in Göteborg, Sweden
3:e Våningen (3rd Floor) is 600 square metres dedicated to contemporary dance and art, focusing on choreographic and spatial expressions. The venue holds a black box and a white space, side by side. Two relative counterpoints, offering new possibilities for interaction. In this trans-disciplinary environment new works are created throughout the year. Broad national and international networks enable carefully selected guest performances.
In October 2010 Gun Lund and Lars Persson started this new chapter in Swedish dance history. It was a generous expansion of their previous space 24 Kvadrat, which the duo since 2002 had made famous for being the smallest dance venue in Sweden.
3:e Våningen is located at the harbour entrance of Göteborg, in an old 19th century factory, alongside many other artists, studios and creative businesses.
3:e Våningen is home venue for choreographers Gun Lund and Olof Persson and their companies E=mc2 Dance and Olof Persson Projects. It is also a space for choreographers and dance companies from Göteborg and the West Coast area, offering them possibilities for long rehearsal and performance periods.
Each year a number of international dance productions are invited and presented at 3:e Våningen. Collaborations and exchanges are of particular interest to the venue and the hosting dance companies.
Since January 2013 Olof Persson has joined Gun Lund and Lars Persson as Artistic Director.
- Our trademark is a careful and personal choice of performances, exhibitions and concerts, set in an intimate atmosphere and with a close relation to the audience. A lot of work and a great love for the Arts make this project possible.
Welcome to 3:e Våningen!
Gun Lund, Lars Persson & Olof Persson
Artistic Directors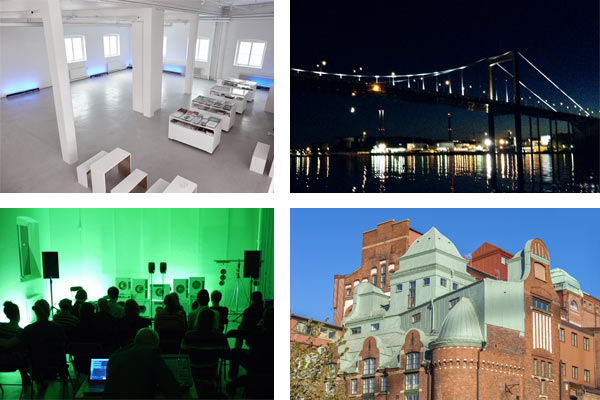 Stage
A studio-stage/black box with flexible solutions: 10 x 18 meters (4 meters of height) including 45 seats in adaptable setting. The audience areas as well as stage and dressing rooms are fully
accessible.
Art Space
The 200 square metre exhibition space holds a wide range of exhibitions and electroacoustic concerts. It also serves as a foyer and is a place for audiences and artists to gather after performances for an unpretentious meeting over a drink and a small bite to eat.
Studio
The studio is the rehearsal space for E=mc2 Dance and Olof Persson Projects, but also possible to rent for a modest fee by other dancers and choreographers, for longer or shorter periods of rehearsal and development work.
Archive - Library
There is an archive with DVDs, videos, photos and other documentation of more than 30 years in dance. There is also a library with ca 1200 volumes of dance literature, some of the books dating back to the 18th century. Visits by appointment.
Concept Store
A careful selection of locally produced magazines, records, DVDs, books, accessories and special editions from the Göteborg area. Works from artists affiliated with 3:e Våningen, as well as our own products. The store is open during exhibitions, performances, concerts and other events at 3:e Våningen.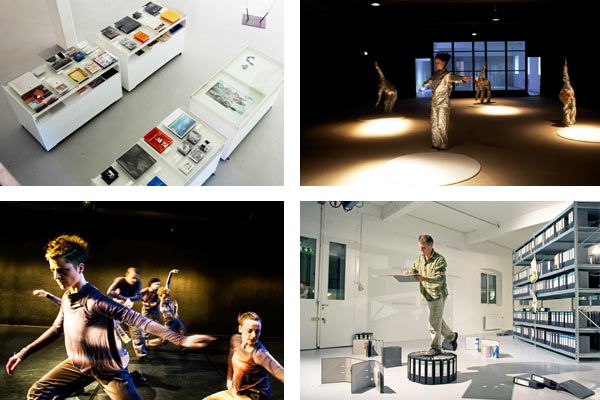 E=mc2 Dance and Olof Persson Projects
Gun Lund and Olof Persson are choreographers with their respective project based companies and continuous activity since as long as 30 years. Both are highly movement based, but differ quite strongly in expression and aesthetics.
Gun Lund, a master of composition, is often exploring connections between science and art while alternating between creating stage works and large-scale site specifics. She holds a lifetime award for high quality and importance in Swedish dance. www.emc2dance.com
Olof Persson is as much a visual artist as a choreographer and dancer. He is working closely with a project group of dancers, internationally renowned sound artists, lighting designers and fashion designers, creating spheres of movement art to enter into, be it for the stage or alternative spaces. www.olof.org
Collaborations, exchanges and tours
The versatility of the hosting companies only strengthens the programme at 3:e Våningen and enriches the possibility for collaborations and exchanges with other artists, dance companies and venues. Both E=mc2 Dance and Olof Persson Projects tour nationally and internationally.
3:e Våningen collaborates with festivals, biennials and yearly events such as Göteborg International Biennial of Contemporary Art, Göteborg Dance & Theatre Festival, Culture Night, Science Festival, Göteborg Art Sounds and Art Map Majorna.
Funding
3:e Våningen is supported by Göteborg City Cultural Committee, Region Västra Götaland, Swedish Arts Grants Committee, Swedish Arts Council, Swedish Institute, Familjen Wikanders Foundation and more.